The Beauclaire lA Delicate Steel Casket with a Flo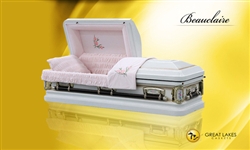 http://www.greatlakescaskets.com/beauclaire-p/r18020101%2802%2908.htm

The Beauclaire, a steel casket, shares many attributes with the Ashmore -- the fair flowers, the rose exterior, the delicate overhang and 18 gauge construction. It is distinguished by its half-couch door but nevertheless maintains much the same ambiance, establishing a special, often times feminine approach to a funeral with its floral motif.

Commentaires
Ajouter un commentaire
S'il vous plaît connectez-vous pour pouvoir ajouter des commentaires !